This would make a really good brunch, it was enough to feed 6 people. It was so huge I had to grill it in the oven to make sure it was well done all the way through.
I used all the ingredients from V2.0 with a few adjustments on the quantities and added two more as follows: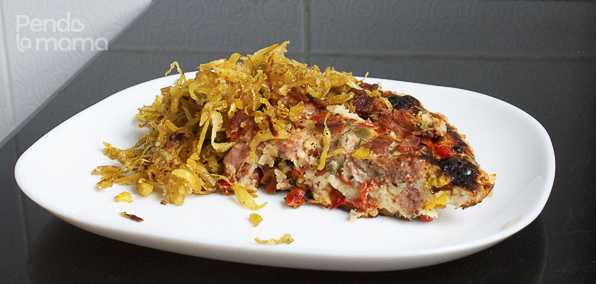 5 eggs
100ml milk
½ cup flour
collar bacon, fried and chopped small
4 sausages, cooked and chopped small
2 small onions chopped
½ green pepper chopped
½ red pepper chopped
½ yellow pepper chopped
1 tomato chopped
Some cooking oil
Salt to taste
Chop everything that needs to be chopped and have it ready before starting. The bacon should be fried and sausages should also be cooked chopped.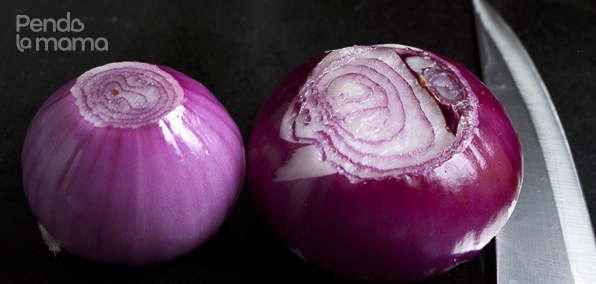 Start with the onions. Heat up some oil in a pan and add the chopped onions.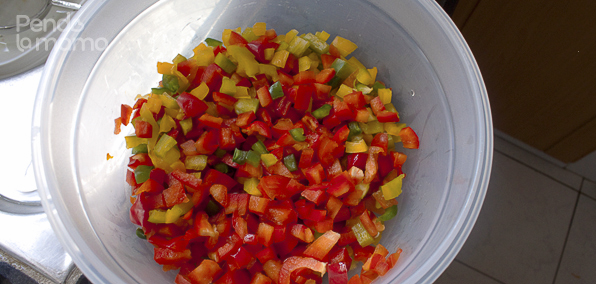 After they start to soften, add the chopped peppers.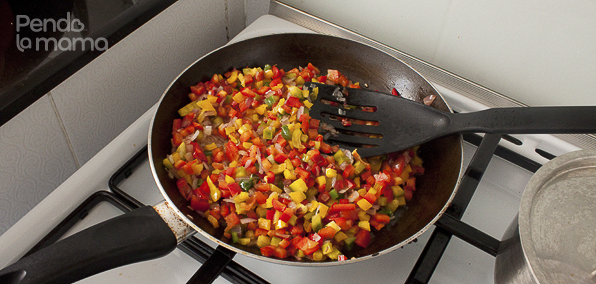 Add a bit of salt. You can cover to keep in the moisture so they don't dry fast and start burning, or turn down the fire. While they're cooking mix the egg, milk, flour and salt. Then throw in the freshly chopped sage.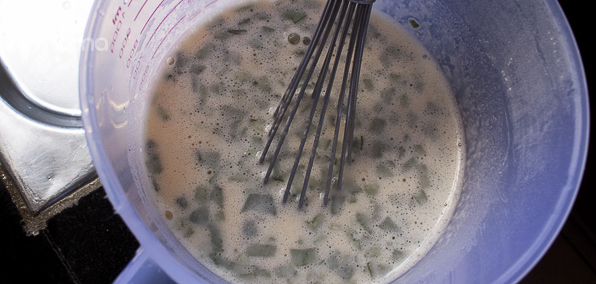 You could also make the egg mix ahead of time. The peppers should have softened by now. Spread everything on the pan evenly then pour in the egg mix.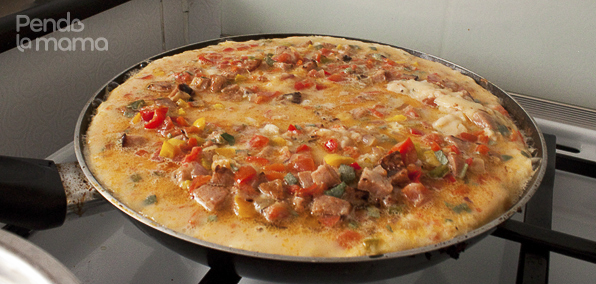 Fire should now be low. It needs very slow cooking. This was actually too much for the pan. I covered it for a while hoping that would help it cook all the way to the top, but the bottom was starting to burn. There was no way I was even going to attempt turning this thing over. It's way too thick. So I fired up the oven in grill mode and stuck the pan in with the handle hanging on the outside (handle not made for oven, it would just melt. I need to invest in a good stainless steel pan that can go in the oven). That helped to cook it from the top down. I learned the "stick it in the oven" trick from a friend who also likes to make chunky omelets. Might try his version one of these days.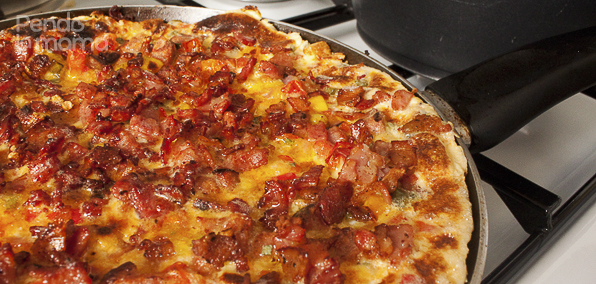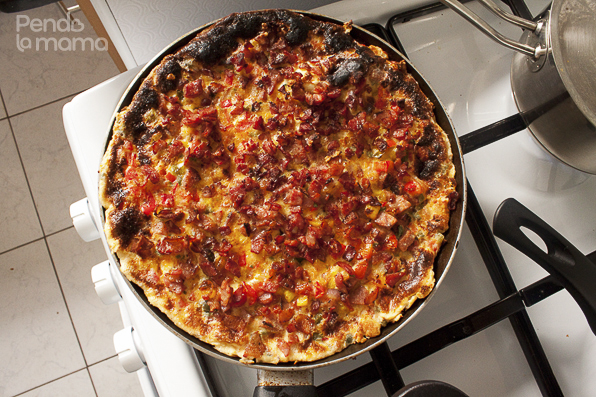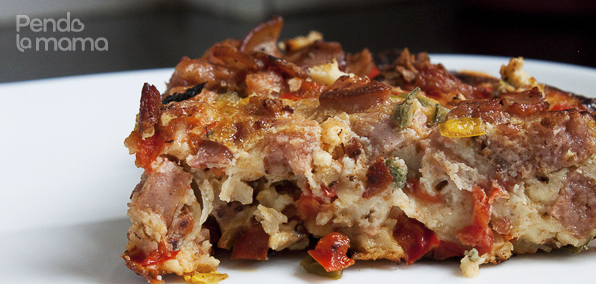 And now the hash browns. I found the recipe on the Simply Recipes website. But I didn't realise I was out of potatoes, so I used what I had — sweet potatoes.
Wash, peel, grate. If you are grating more than one potato, put the grates into water as you do the others so they don't turn brown.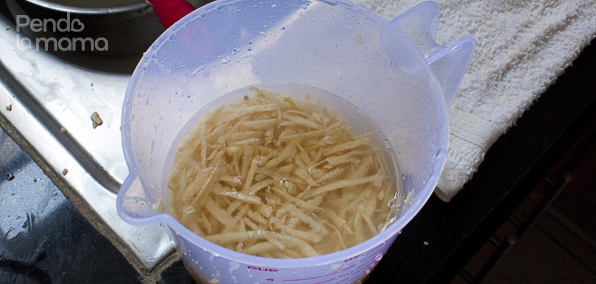 When done with the grating, start warming up some cooking oil in a pan. Then drain and pat the grates dry with paper towels/napkins.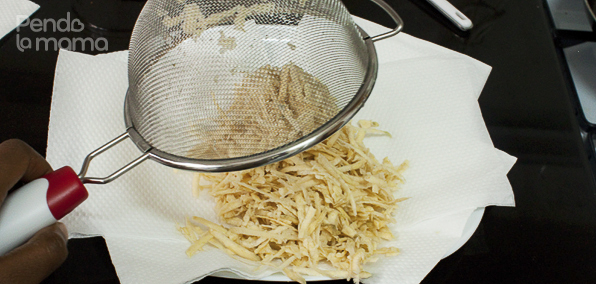 Put them in the pan and spread them out. stir often and turn them over so they cook evenly.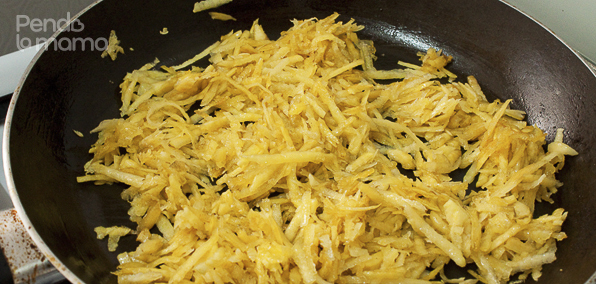 I wasn't sure how long to cook them. When they started browning I tasted one and it was good to me so I took them off the pan and did the next batch.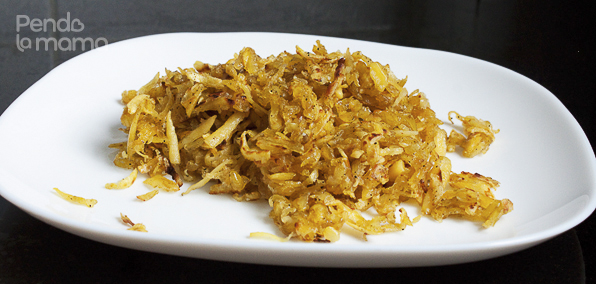 Phew! All done! This is the longest breakfast making routine I've ever done. He was already supper hungry and waiting.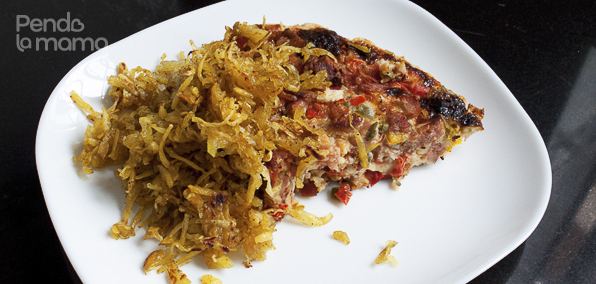 Husband Rating:
too chunky, can't taste the egg. The potatoes are nice and crunchy, Rating:
I thought it was really good. The flavours were nice, I didn't mind that I couldn't taste much of the egg. It was like a heavy meal, so if you prefer something light for breakfast like he does, this is not it.