If you have not seen the meatloaf post from this past Friday you simply must check it out! Also read the first part of this interview before you go on. We are getting to know the delightful June, here is part two of the interview…
---
How do you plan for your meals?
I don't use meal plans. I generally decide what we shall have on the same day, usually in the morning considering the following factors:
– What is available in the fridge/pantry
– What we haven't eaten most recently
– Whether I want (am available) to cook part of or the whole meal
– Whether there are specific plans for the next one or two days e.g. visitors, being away from the house
Yeah, so it's a random system like that.
What was a favourite meal in your family when growing up? 
Growing up our family favourite was rice and dry-fried chicken. As I grew up and my mum got a cooker with an oven it became roast potatoes and slow roast chicken with a side salad. I remember when I finished my fourth-year exams in university, my mum and sister made all my favourite foods that evening and called the neighbours for a celebration dinner. It is truly one of my fondest memories of a family dinner growing up.   
And Now in your own home?
My family's favourite meal is home-made fries with my special spice mix; roast marinated chicken legs with rucoli (arugula) and cherry tomato salad. For my husband the chicken can be alternated with roast leg of lamb also marinated in garlic, mustard and soy sauce with a special reduction sauce of the left over marinade.
Anything you have no interest in ever trying?
It's more like never ever; what I like to call "advanced sea food" such as scallops, crab, prawns, lobster etc. I have low tolerance for sea food. I only make fish and even then just skinless fillet. I am not at all adventurous in that area.
What do you still want to learn to make?
Chapati!! My husband really loves them but me, not so much. I have been fortunate to have helpers in my house who make them well staving off the need for me to learn even further.
But I would really want to have that skill. However I recognise that people improve their chapatti-making skills from regular practice which I wonder whether I can achieve.
Do you wish you made more of anything?
Yes, I wish I baked more. During my second pregnancy I discovered cheesecake from my favourite restaurant. It was my third trimester craving. I totally want to learn how to make cheese cake and try other things like muffins and even try my hand at icing a cake myself! I do however need to invest more in baking items before I can venture more seriously into it. Currently I favour Betty Crocker cake mixes that I buy from the supermarket, and use them to bake mixed flavoured cakes for guests to have with tea after lunch.
Has your cooking style changed over the years? How?
Over the years I have changed mostly from making meat stews to making vegetable stews or soups then I braise, roast, or stir-fry the meats.
I am also very keen on developing the flavours of everything I cook, either using spices or herbs. I have learnt various tips to this end such as adding ¼ tsp of turmeric and half a lemon to your boiling rice for a wonderful aroma and colour. I have also learnt how to roast all kinds of previously unpopular bulbous vegetables using a dash of olive oil, garlic, salt and pepper. This makes them enjoyable even to my son.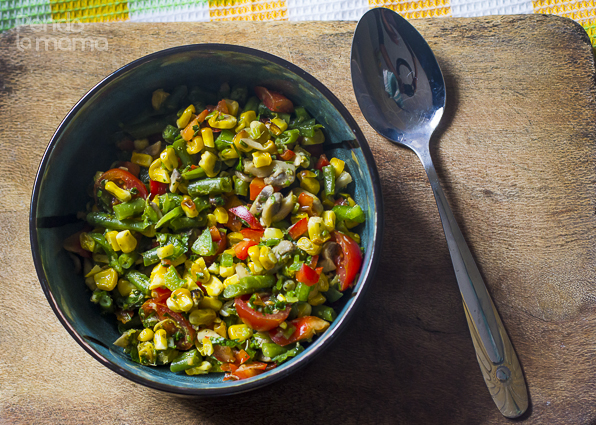 What is the most useful gadget in your kitchen and why?
The most useful gadget in my kitchen is the blender. I love using it to make soups and the coffee grinder part of it I use to grind spices and to make pesto. This works so well especially if you have dry roasted the spice seeds on a pan before-hand e.g. cumin, fennel, pepper corns etc.
What have you tried that backfired?
Deep fried cauliflower did not work out so well. I feel like the oil I used was not quite hot and the coating technique I used did not also result in well coated cauliflower florets. I mostly roast or sauté vegetables now to get maximum flavour from them.
What makes a home for you?
A home is a place of love, nature and acceptance. It is, on one hand, a place of inspiration encouragement and discipline; but on the other hand, a place with fun, warmth, laughter and wonderful memories. The person(s) leading the family need to set a good example for their children in their words and deeds and set the family standards, acceptable not just for the members at home, but bearing in mind that the children will also one day be in charge of their own homes. Big or small, with fancy furniture and décor or not, it is the members of a household, their character and values that make a home.
Anything you want to share?
As much as I love cooking I had never imagined something I cooked being interesting enough or worthy of being captured and shared with others in this way. I really appreciate the opportunity and honour. Working on this post has allowed me to think deeply about my cooking journey thus far and birthed some ideas of what I can do to enhance it for the days to come. I salute Pendo La Mama for the wonderful platform it provides for regular African mums to showcase their love for their families through food.
---
heeeeh! Lighthearted, funny and deep all in one package! Just delightful! 
Thank you so much June, it was entirely my pleasure. I am honoured that you would share your heart with me and my readers, all the wonderful insights are a blessing to us all.
Ok, you an now head over to the home page to see the second recipe post — an amazing salad!
Blessed day everyone!