This is my first use of the garlic and mint marinade from a few days ago. I rubbed some of it on a leg of lamb (sprinkled some sea salt on top cause the marinade is not salted), and baked in the oven at 200°C for 1¾hrs. Line the oven pan with foil and cover with foil for the first 1¼ in the oven, then leave open for the last 30 min to brown the outside(15 min each side, keep watch so that it doesn't burn, may not need that much time)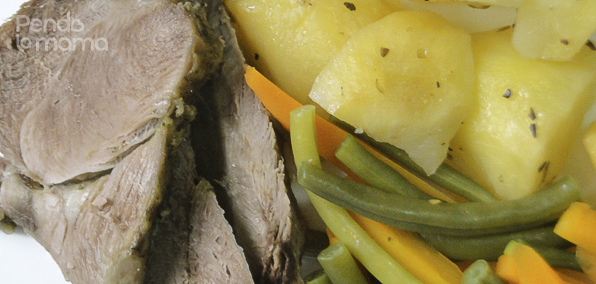 Served with baked potatoes, carrots and green beans. Peel and cut the potatoes to desired size, and again, line the pan with foil. Sprinkle salt (to taste) and some dry oregano, and cover with foil. Place in oven with the lamb so they can cook at the same time. After 45 min uncover the potatoes for 15min so they can brown a little then pull them out.
The veggies are very simple, just wash, cut off the ends of the green beans, and cut the carrots into strips to match, boil in water with a little salt (not for too long though, they should still be a little crunchy, don't let them get soggy).
In hind site, I think it needed a sauce. But I really like that once everything is in the oven I can rest for an hour.
Husband Rating:











Would have liked some sauce with it but other than that it was very flavourful. Awesome presentation.